The American Canoe Association camp on Lake Sebago is in Harriman State Park, near Sloatsburg, New York. There is no street address, but getting there is pretty simple.
Note: There is a locked gate at the drive. If you don't have a key, then make arrangements ahead of time to meet someone. Cel service is very spotty, so don't count on contacting someone in the camp.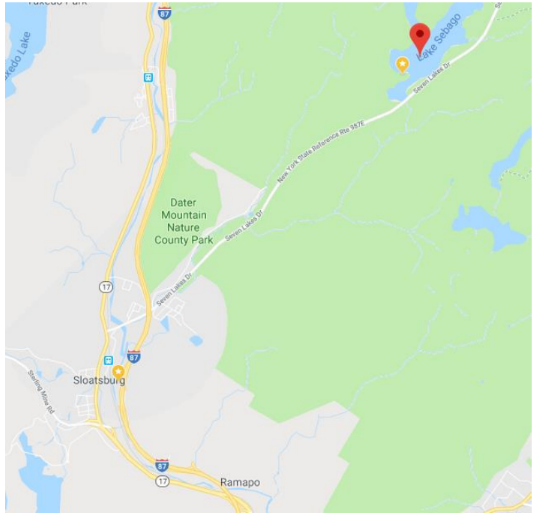 Getting to Sloatsburg
Sloatsburg is right off I-87, just northwest of I-287. Highway 17 runs parallel to the interstate. You can get there in a variety of ways, but the interstate and the highway are likely for most drivers.
In Sloatsburg, from either the interstate or highway, you'll intersect with Seven Lakes Drive. This is a long road that runs through the park.
You can also access the Seven Lakes Drive from the north, via Exit 16 on the Palisades Parkway, in which case you will not drive through Sloatsburg.

Seven Lakes Drive
From Sloatsburg, the entrance to the camp is a little over three miles, and on the left. If you find yourself passing a sizable lake on your left, you've overshot.

From the Palisades Parkway entrance, you'll drive pass Lake Welch and bear left, then turn left, for a total of seven miles. The entrance will be on your right, after passing a sizable lake on your right.

Drive to the Camp
Once past the gate, there is a fairly meandering drive through the woods. Eventually this reaches a fork: The ADK (Adirondack Mountain Club) camp is straight ahead, and the ACA (American Canoe Association) camp is to the right. You want the ACA camp. There is a second gate here, but the same arrangements for accessing the first should get you through the second, i.e. a key or a friend.